FUN, FRIENDS, FOOD FOR A GREAT CAUSE!
The annual Eagle Creek Golf Classic is presented as a fund raising event that just happens to be a great time for all who participate.  All proceeds from the scramble go to Eagle Creek Recovery Center to further its drug addiction recovery programs.  Eagle Creek is a 501 (C)(3) faith-based, non-profit program that has been serving the commumity for over 26 years. All donations are tax deductible.
The golf classic will be a 4-Man Scramble with a Shotgun Start with each team playing 18 holes.  Each entry includes green fees, range balls, meals, refreshments and gift items.  
Event Date:    
         EAGLE CREEK GOLF CLASSIC
Saturday – Sept 24, 2022
7:30 am – Morning Snack & Registration
8:30 am – Tee Off
Lunch provided after the round
Event Location will still be:  
Huntington Park Golf Course
8300 Pines Rd.
Shreveport, LA 71129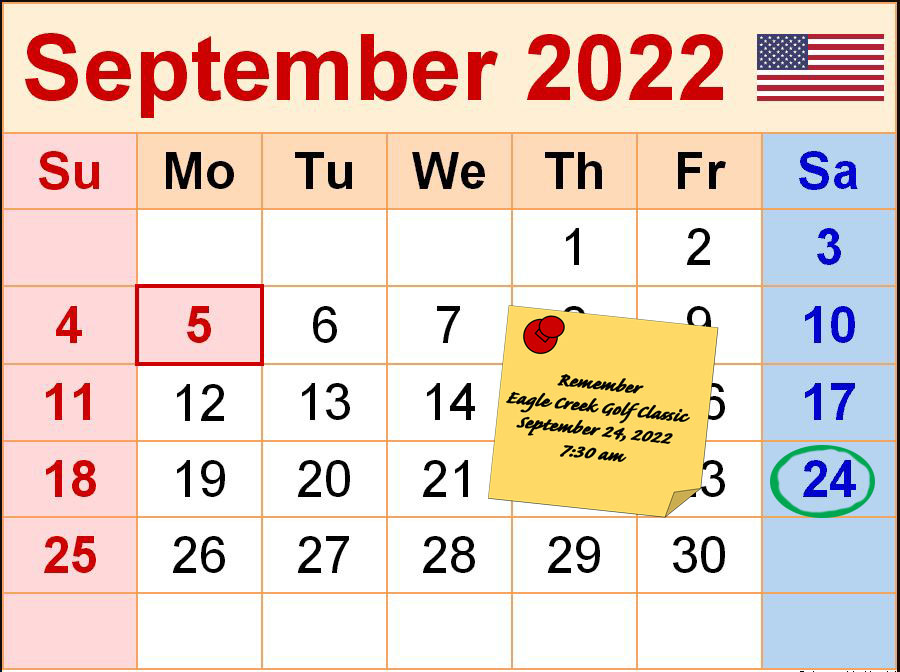 Want directions?  Click here for a Google Map Guide.
Registration Times
7:30 AM

(Times are one hour before tee time)
Lunch is served during the registration time.
Tee Time:
Tee Off is at 8:30PM.  Shotgun Start.
Team Size
Team Format is a 4-Man Scramble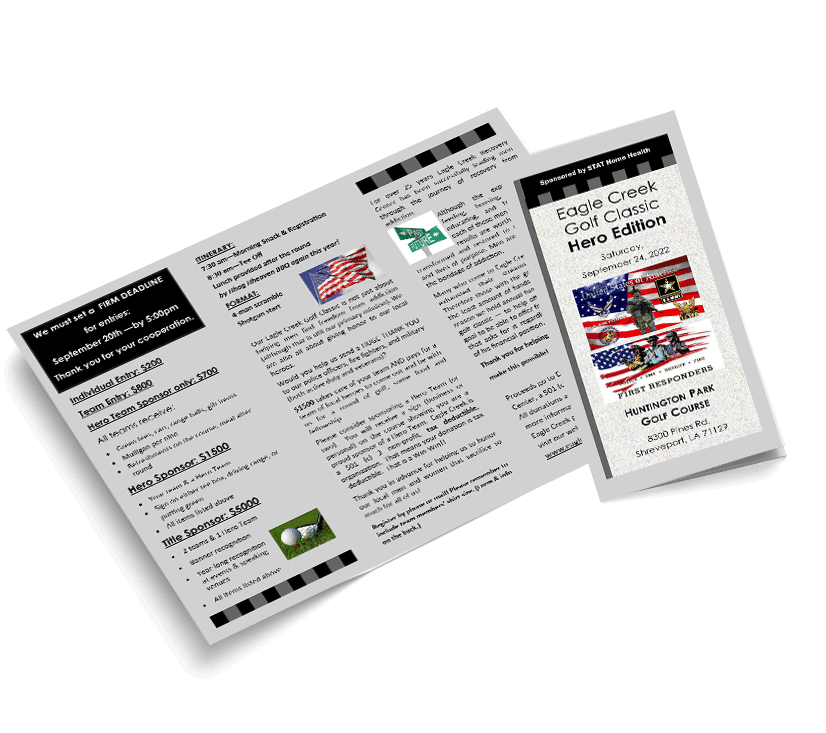 Get the 2022 Eagle Creek Golf Flyer.
Simply click on the image and either review or print the 2020 ECRC Golf Classic Flyer.  It holds information about each of the enrollment levels, what is included and if you want to go "old school"; print it to complete and mail your enrollement.
Sign up today!  We hope to see you there.
Select your Entry Type and Quantity Below
Then Select Add to Cart
When your order is complete select "Go To Cart"
You will be taken to the Check Out Page.

SINGLE PLAYER
Individual Player on a 4-Player Team
Green Fees

Cart

Range Balls

Gift Items

Mulligan per nine

Meal & Refreshments on the Course

[tc_ticket id="1250″ quantity="true"]Go To Cart
TEAM ENTRY
4-PLAYER TEAM ENTRY
Green Fees / 4 Players

Cart

Range Balls

Gift Items

Mulligan per nine

Meal & Refreshments on the Course

[tc_ticket id="1251″ quantity="true"]Go To Cart
HOLE SPONSOR
Our Faithful Supporters
Sign on either tee box, driving range or Putting Green

Green Fees / 4 Players

Cart

Range Balls

Gift Items

Mulligan per nine

Meal & Refreshments on the Course

[tc_ticket id="1249″ quantity="true"]Go To Cart